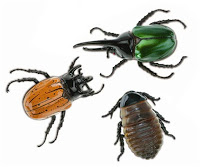 5 TIPS TO ENJOY A PEST-FREE BACKYARD BBQ
With the welcome arrival of long sunny days in Las Vegas, people across Clark County will be gathering outdoors to partake in summertime fun. However, nothing ruins a backyard barbecue like pests! To learn about how you can fend off mosquitoes, ants and stinging insects. The following are some tips to help you enjoy the use of your backyard.
Insect repellent – Most mosquitioes are most active around dusk and dawn. So if you are planning a barbecue before sunset make sure you have plentyof insect repellent containing an EPA registered active ingreidient such as DEET or Picaridin on hand for you and your guests.
Avoid stinging insects – Yellow jackets and other stinging insects are attracted to many fragrances so avoid using scented items. Also use clear plastic glasses instead of alumimum cans and plastic bottles as these are good hiding spots for insects.
Patch it up – Prioir to your party check the screens on your windows and doors and patch up any holes so mosquitoes or stinging insects cannot get inside your home. Once your guests have arrived remind them to close the doors after they go in or out of the house.
Keep it clean – Ants and flies are attracted to barbecue food so take precautions to keep area sanitary by using tightly sealed containers and coolers. Also clean up any crumbs or spills immediatley so they don't attract insects.
Drain standing water – Fountains and bird feeders for instance are a breeding ground for mosquitoes.
GLOBAL PEST SERVICES in Las Vegas is a licensed pest control company that is qualified to handle all your pest elimination needs. Call our office at 702-657-0091 or go to our web site- to speak with us for all your pest control needs. Get a quote now!
Let us know what's bugging you….