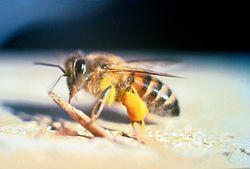 A MASS OF ANGRY BEES SWARMED AND STUNG A WORKER IN NORTH LAS VEGAS
While working on a utility pole in North Las Vegas a worker has been critically injured after being stung hundreds of times by a swarm of what appeared to be Africanized Bees.  According to Capt. Cedric Williams with the North Las Vegas Fire Department, the incident happened around 2:30 p.m. Wednesday in the area of Craig Road and Simmons Street behind the Smith's grocery store.  Williams says they received multiple 911 calls about a bee attack. 
The worker was stung hundreds of times and transported to Centennial Hills Hospital in critical condition. Two other people were also stung however not to the extent of the worker and were treated and released at the scene.
According to NLVFD, two firefighters were injured during the bee attack, as well. One was treated on scene and the other was transported to an area hospital in stable condition.
Africanized honey bees originated going to Brazil from Africa in the 1950s and then hybridized in an attempt to produce a better bee that withstand tropical climates.  Over the years they officially reached the United States in 1990 when the first swarm was documented.  The following are some steps you can take if you find yourself being swarmed by bees:
Be aware of the triggers that encourage Africanized honey bees to attack.
If bees start attacking, don't freeze. ...
Protect your face as you run. ...
Run into the wind. ...
Avoid getting into water. ...
Run to a building shelter. ...
Use any cover on hand if you cannot find shelter.
Do not attempt to remove the hive by yourself – call a professional at once.
GLOBAL PEST SERVICES in Las Vegas is a licensed pest control company that is qualified to handle all your pest elimination needs.  Call our office at 702-657-0091 or go to our web site- to speak with us for all your pest control needs. Get a quote now!
Let us know what's bugging you….