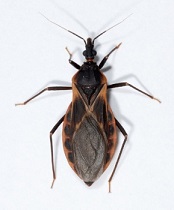 A PEST CALLED THE KISSING BUG
The kissing bug – an innocent name for a pest that has a habit of biting humans on and around the lips. They are found in the southern part of the United States and possibly in the Las Vegas Valley like Henderson or Summerlin.
The kissing bug is in the Reduviidae family of insects – they are around one inch long and are generally brown or black with a red, yellow or brown marking on their abdomen.
They are capable of carrying a parasite that can cause Chagas disease – an illness that has affected millions of people in South America. So far there have been no known cases of people in the United States with the disease. A recent study performed by the Centers for Disease Control and Prevention (CDC) found that almost 40 percent of the kissing bugs collected in California and Arizona had recently fed on human blood – which is unexpected since the 11 species found in the United States are not known to feed on humans.
Most of the people bitten by a kissing bug is not memorable and hardly ever have a reaction. Contact with a kissing bug that transmits Chagas disease is very rare – the symptoms include fever, fatigue, head and body aches, swelling around the eyelids and a rash where the parasite entered the body. Treatment by a medical professional is necessary to get rid of the parasite.
The key to keeping them out of your home is to seal cracks on inside and outside walls, replace weather stripping and repair loose mortar and make sure there is no gap underneath all doors.
To get rid of all pests you might encounter in the Las Vegas Valley contact GLOBAL PEST SERVICES.  The licensed professional technicians are well trained in eliminating all pests.  Get your quote now!
Let us know what's bugging you…