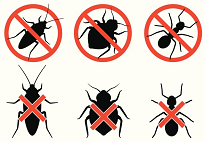 ALLERGY AND ASTHMA SUFFERERS GET NO RELIEF
As the days get colder and shorter in the Las Vegas area people start spending more time in indoors in Mountain's Edge and Henderson. This is maybe hardest on those that suffer from asthma and allergies due to exposure to indoor allergens.
The trigger for the symptoms can be caused by pests like cockroaches, mice and rats that are also spending time in your home. Dr. Jorge Parada, medical advisor for the National Pest Management Association (NPMA) stated "The saliva, urine and fecal droppings from cockroaches and rodents contain allergen proteins known to elicit allergic reactions and asthma attacks."
The Asthma and Allergy Foundation of America (AAFA) reports that cockroach allergens are present in 63 percent of homes in America and mouse allergens are in 82 percent of the homes. In urban areas the percentage of homes with cockroach allergens increases to 78-98 percent.
To help keep allergen causing pests out of your home the NPMA recommends the following tips:
Seal any cracks or holes around the outside of your home – including utility pipes.
To prevent moisture build-up – properly ventilate basements and crawl spaces.
Clean counters to eliminate crumbs and vacuum floors often to reduce allergens.
Make sure garbage is in a sealed container and dispose of it regularly.
Pay extra attention to kitchens and bathrooms when you clean – under appliances and sinks as these are areas most likely to have cockroach infestations.
If you suspect an infestation of cockroaches, rodents or any other pest contact a licensed pest control professional to evaluate and
eliminate the problem.
GLOBAL PEST SERVICES in Las Vegas is a licensed pest control company that is qualified to handle all your pest elimination needs. Call our office at 702-657-0091 or go to our web site- to speak with us for all your pest control needs. Get a quote now!
Let us know what's bugging you….