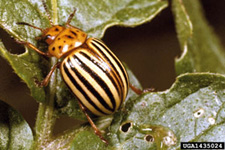 ANTI-ADHESIVE SURFACES DEVELOPED FOR USE AROUND HOMES – INSECTS CANNOT WALK ON
A team of researchers and the Plant Biomechanics at the University of Freiburg have developed an artificial surface to use on facades or air conditioners – one day we will be able to use this surface in the Las Vegas Valley.
Cockroaches and other insects like to live in the ventilation pipes in air conditioning units from Green Valley to Mountain's Edge. This surface can make it harder for insects to walk on air conditioners, window frames and other facades of buildings so they cannot enter your home and invade cupboards.
The experiments conducted by the researchers showed that Colorado potato beetles walked across synthetic resins and plant surfaces in different ways than a non treated surface. The beetles slipped off the treated surface since they could not adhere since this surface is not coarse and they could not dig their feet into the anti-adhesive cuticular folds.
More testing of the artificial surface is being conducted at the Freiburg Center for Interactive Materials and Bioinspired Technologies where the team of researchers are creating a prototype.
For help getting rid of all pests you might encounter in the Las Vegas Valley contact GLOBAL PEST SERVICES. 
GLOBAL PEST SERVICES in Las Vegas is a licensed pest control company that is qualified to handle all your pest elimination needs. Call our office at 702-657-0091 or go to our web site- to speak with us for all your pest control needs. Get a quote now!
Let us know what's bugging you….