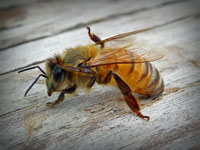 AS THE SUMMER WINDS DOWN – STINGING INSECTS PERK UP
Summertime is winding down in Las Vegas but the National Pest Management Association urges us to remember that insects that sting are entering their most active time of year. They start to forage for food to sustain themselves during the winter months.
Whether you are hiking trails in Summerlin or enjoying picnics in the parks of Henderson – stinging insects such as bees, hornets and wasps are out there potentially ready to sting you even as the days get shorter.
In the United States every year more than a half a million people go to emergency rooms because of stinging insects. Most people experience localized swelling or pain from a sting but 3 percent of those stung can have a severe allergic reaction – such as hives, rashes or shortness of breath.
If you should encounter a wasp, bee or hornet you are advised to try to stay calm and avoid panicking. NPMA says not to swat the insect – instead gently blow on it from a distance so it does not feel threatened.
When a sting does occur it is recommended to take immediate action to alleviate symptoms – remove the stinger and then clean the sting area with cold water and soap and then apply ice. Doctors also suggest you consider taking a pain reliever or antihistamine or apply hydrocortisone cream to calm the reaction. If you know you are allergic to this type of sting – learn how to use an epinephrine kit and carry it with you.
If you notice a hive on your property or suspect you have an infestation – DO NOT ATTEMPT TO HANDLE THIS ON YOUR OWN! HIRE A PROFESSIONAL PEST CONTROL COMPANY.
GLOBAL PEST SERVICES is a company of licensed professional technicians that are well trained in eliminating all pests – including all types of bees.  Get your quote now!
Let us know what's bugging you…..