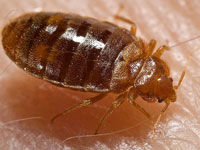 BED BUGS IN LAS VEGAS – THE MOST "UNWANTED LIST" PART 12
Bed Bugs are the next pest on the Las Vegas UNWANTED LIST. In 1940 bed bugs were almost completely eradicated from human habitats in developed countries but recently infestations have been on the increase. Whether you live in Anthem, Summerlin or Centennial Hills you can be at risk.
Bed Bugs usually "hitchhike" into a residence on clothing, luggage, pets, furniture or people – then the infestation grows as the bugs feed and reproduce.
The species usually found in homes in Las Vegas are called Cimex Lectutarius, but other species can be found as well. They are usually active at night and bite people while they are sleeping in bed since they like to hide in mattresses and box springs - so they have been named bed bugs.
An adult bed bug grows to be about 4 mm to 5 mm long and can be about 1.5 mm to 3 mm wide. A bed bug feeds on a host for several minutes. A bed bug usually feeds about once per week, but it can survive for longer periods of time without feeding. Bed bugs find their host by detecting carbon dioxide, which humans breathe out.
Bed bug bites may cause a rash, or something that looks like a mosquito or spider bite, on the part of the body that is being bitten. Some people can become allergic to bed bugs after being exposed to a bed bug infestation.
For help getting rid of bed bugs or other pests you might encounter in the Las Vegas Valley contact GLOBAL PEST SERVICES.  The licensed professional technicians are well trained in eliminating all pests. It is important to treat this problem as soon as possible since bed bugs multiply quickly. Get your quote now!
Let us know what's bugging you…