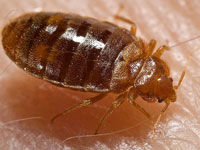 BED BUGS IN LAS VEGAS AND HOW TO PREVENT THEM
Bed bugs are spreading in Las Vegas. From Henderson to Summerlin calls for eliminating bed bugs are up 50 percent from last year.
This past summer a study of the cities that had the largest increase in bed bugs was released today by USA Today and KTNV (Las Vegas channel 13) – Las Vegas was #3 on the list with an increase of complaint calls.
The Las Vegas bed bugs that infest people's houses are usually a species called Cimex Lectularius, but other species can cause an infestation as well. Bed bugs were almost completely eradicated from human habitats in developed countries around 1940, but recently infestations have been on the increase. Bed bugs usually "hitchhike" into a home on clothing, luggage, furniture, pets, or people and the infection spreads when the bugs feed and reproduce.
Las Vegas is one of the top travel destinations in the country, so exterminators say it's no surprise bed bugs are found in hotels, movie theaters, cars, airplanes and other high traffic areas -they like a controlled environment the same as we do.  When you do travelput your luggage on the rack and not on the floor. Also, hang your clothes. Don't just leave them around furniture or hotel dresser drawers.
The city's bed bug ranking isn't necessarily a bad thing. It means people are paying closer attention to these little bugs. Hotel companies, for example, are aggressively attacking bed bug problems before they spread.
GLOBAL PEST SERVICES in Las Vegas is a licensed pest control company that is qualified to handle all your pest elimination needs including bed bug infestations. Call our office at 702-657-0091 or go to our web site- to speak with us for all your pest control needs. Get a quote now!
Let us know what's bugging you….