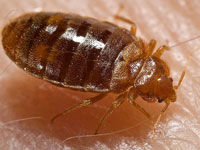 BED BUGS TOP THE LIST OF MOST SEACHED PEST ONLINE IN 2015
Bed bugs are a type of parasitic insect that can infest homes. The beg bugs that infest people's houses are usually a species called Cimex Lectularius, but other species can cause an infestation as well. Bed bugs bite people and drink a small amount of blood.
They are found in virtually every place people tend to gather, including residences, hotels, schools, offices, retail stores and even public transportation. They are hitchhikers and will enter your home in Las Vegas on clothing, luggage, furniture, pets, or people and the infection spreads when the bugs feed and reproduce.
Cindy Mannes, vice president of public affairs for NPMA (National Pest Management Association).stated "So, it makes sense that people are looking for information about them. No one wants to encounter bed bugs and they certainly want to find out how to protect themselves from an infestation and how to get rid of them, fast."
The NPMA looked at the top 100 pages per session on its consumer website, PestWorld.org, from January 1 through December 14, 2015 to determine which pests generated the strongest content interest within the United States. The following pests were identified as the most searched in 2015:
Spiders
Stinging insects
Cockroaches
Ants
Stink bugs
Mosquitoes
Ticks
Termites
Rodents
GLOBAL PEST SERVICES in Las Vegas is a licensed pest control company that is qualified to handle all your pest elimination needs including bed bug infestations. Call our office at 702-657-0091 or go to our web site- to speak with us for all your pest control needs. Get a quote now!
Let us know what's bugging you….