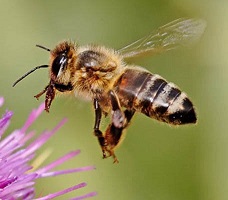 BEES ARE LESS AGGRESSIVE WHEN THEY SMELL FLOWERY SCENTS
Want to avoid being stung by a bee? Honeybees exhibiting aggressive behavior seemingly 'calm down' when exposed to floral scents like flowery perfume...
The researchers found that this isn't because the odors overpower other scents, but instead because the insects respond more to information about food. Like many insects bees, communicate via chemical signals such as giving off 'alarm pheromones' that alert other members of the hive to a threat, resulting in violent behavior.
This comes at a high cost to the bee since stinging results in death of the bee once the stinger becomes detached in the body of its victim. Tests and studies were performed by counting the number of sting attacks triggered by a rotating feather disturbing them, they found floral compounds called linalool and 2-phenylethanol soothed the bees, as did lavender. And the study revealed this was not due to the odors masking the chemical, but was linked with the extent to which they represented a valuable food reward.
Understanding the biological mechanisms in bees is a crucial step in developing tools for how to manage the bees. They may also have a practical application in helping beekeepers keep their hives calm.
Biological scientist Morgane Nouvian said: 'Honeybees defend their colonies aggressively against intruders and release a potent alarm pheromone to recruit nest mates into defensive tasks.
'The effect of floral odors on this behavior has never been studied, despite the relevance of these olfactory cues for the biology of bees. We show that social interactions are necessary to reveal the recruiting function of the alarm pheromone and that specific floral odors-linalool and 2-phenylethanol-have the surprising capacity to block recruitment by the alarm pheromone."
If you come in contact with a nest of bees it is advised to call a pest control professional.
GLOBAL PEST SERVICES in Las Vegas is a licensed pest control company that is qualified to handle all your pest elimination needs. Call our office at 702-657-0091 or go to our web site- to speak with us for all your pest control needs. Get a quote now!
Let us know what's bugging you….