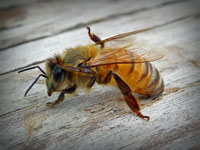 BEES STING SEVERAL RESIDENTS AT A LAS VEAGS APARTMENT COMPLEX
Earlier this week several people were stung by bees at an apartment complex in the northwest part of the Las Vegas Valley. We are starting bees swarming season in our area from Boulder City to Summerlin – here are some tips for you in case you find yourself swarmed by bees.
Bees, unlike some insects are not afraid of people. The Africanized bees, also known as killer bees, are commonly found in the Las Vegas area. Bee swarms are more common in the spring because they are looking for a new place to build a home.
If you encounter them do not panic – stay calm – the bees can smell fear and leave them alone. Bees can also smell sweet beverages. They seem to get more aggressive if you are wearing dark clothing or have dark hair.
There was a case where a Valley man thought he could kill the bees with a flyswatter and a can of Raid. The bees literally attacked him and completely covered his head. The man suffered 40 stings. On another case a woman was attacked by a swarm off of Maryland Parkway and received over 500 stings.
If you receive multiple stings seek medical attention immediately – the toxic reaction to Africanized bees can be fatal.
If you find a hive on your property call a licensed pest control professional immediately. Do not try to get rid of the bees by yourself. A professional has the proper equipment to eliminate the problem so no one gets hurt.
GLOBAL PEST SERVICES in Las Vegas is a licensed pest control company that is qualified to handle all your pest elimination needs. Call our office at 702-657-0091 or go to our web site- to speak with us for all your pest control needs. Get a quote now!
Let us know what's bugging you….