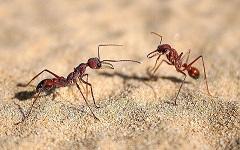 BEHAVIOR AND LIFESPAN OF ANT COLONIES AFFECTED BY PARASITIC TAPEWORMS
The Las Vegas Valley has several different types of ants – black ants, fire ants, carpenter ants and argentine ants to name a few. Recently there was a study on how parasitic tapeworms affect ant colonies.
Ants are quite often infected by parasites. For example, tapeworms use ants as intermediate hosts for a part of their development phase before they complete their life cycle in their main host. . Researchers at Johannes Gutenberg University Mainz (JGU) have discovered that such parasites not only change the appearance and behavior of infected ants but also have an effect on the behavior of uninfected members of the colony. The overall aggressiveness of an ant colony diminishes if it contains any members who are infected with a parasite.
The study shows that infected ants live longer than their uninfected nest-mates. "The longer lifespan may be due to modified genetic regulation but could also be the result of the fact that the infected insects enjoy a better level of feeding," states Sara Beros, primary author of the study. One factor is that these nest-mates have a shorter lifespan is probably the result of the additional stress they experience because of the need to care for the infected animals while also having to do without their help when it comes to other social tasks. A parasitized colony is also far less aggressive towards intruders of the same species.
If ants from an affected colony live shorter lives the chances of infestation should get smaller. In the meantime if you do have an ant problem call a licensed professorial pest control company.
GLOBAL PEST SERVICES in Las Vegas is a licensed pest control company that is qualified to handle all your pest elimination needs. Call our office at 702-657-0091 or go to our web site- to speak with us for all your pest control needs. Get a quote now!
Let us know what's bugging you….