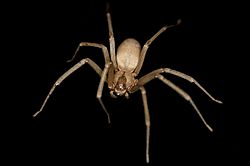 BROWN RECLUSE SPIDERS IN THE LAS VEGAS VALLEY
The Las Vegas Valley is home to many different types of spiders. The brown recluse spider is one of the spiders that reside in southern parts of the country and is one of two spiders with significant venom in North America.
The brown recluse spider has 3 pairs of eyes - most spiders have 8 eyes and are light to dark brown with a darker brown violin-shaped spot on its abdomen. They like to dwell in woodpiles, debris, under furniture, and in dark places like closets, attics and crawlspaces. The best thing to do is remove and reduce trash and rubbish from your property especially anything stored next to the house. It is advised to block off house access by sealing cracks around doors and access holes for electrical conduits or plumbing.
The brown recluse bite in defense – the bites are often painful and can produce an open, ulcerating sore that will require medical attention. Other symptoms include restlessness, fever and difficulty sleeping. If you believe a brown recluse spider has bitten you, go to the emergency room immediately. While most bites aren't serious, in some cases, they can be life-threatening.
If you have a spider infestation contact a professional licensed pest control company.
GLOBAL PEST SERVICES in Las Vegas is a licensed pest control company that is qualified to handle all your pest elimination needs. Call our office at 702-657-0091 or go to our web site- to speak with us for all your pest control needs. Get a quote now!
Let us know what's bugging you….