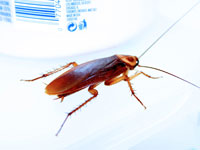 COCKROACH FARMS ARE BIG BUSINESS IN CHINA
Most people that live in the Las Vegas Valley get frightened when they see a cockroach scurry across a room – whether in Henderson or Summerlin the reaction is the same.
Not so in parts of China. The largest cockroach farm is in Shandong Province, the location isn't exactly appealing, but then again, neither is what's inside: cockroaches -- tens of millions of them. Wang Fuming part entomologist, part farmer is the owner of this farm and five others. When dried he sells them for as much as $20 per pound for use in Asian medicine and cosmetics. These insects are a cheap source of protein and the cellulose-like substance on their wings.
The breed favored for this purpose and use is the Periplaneta Americana better known as the American Cockroach. This cockroach is reddish-brown and grows to be about 1.6 inches long and when it matures this type of cockroach can fly.
In 2010 the price for dried cockroaches was about $2 a pound and now the price has increased tenfold. The manufacturers of traditional medicine stockpile pulverized cockroach powder.
For help getting rid of all cockroches or other pests you might encounter in the Las Vegas Valley contact GLOBAL PEST SERVICES. 
GLOBAL PEST SERVICES in Las Vegas is a licensed pest control company that is qualified to handle all your pest elimination needs. Call our office at 702-657-0091 or go to our web site- to speak with us for all your pest control needs. Get a quote now!
Let us know what's bugging you….