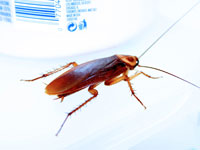 COCKROACHES MOVE INSIDE IN THE FALL IN LAS VEGAS
Cockroaches cause us both fear and revulsion and are certainly unwanted in our homes- with good reason. Cockroaches are pests simply because they introduce bacteria and allergens into our homes and are difficult to get rid of. Nothing unnerves us so much as a threat we cannot see. We might catch sight of the cockroach scurrying away, but what it contaminated is impossible to know for sure.
Most cockroaches like dark and damp places where bacteria and fungi harmful to humans often thrive. Roaches spread these bacteria and fungi when walking on household surfaces and food left lying open. And cockroaches leave chemical trails on these same surfaces and spray pheromones in the air to alert other roaches to their presence and to any available food. These chemicals contain or nurture bacteria that are harmful to humans.
Cockroaches molt, shedding their skins and replacing them with larger ones as they grow. These discarded, broken-down skins, along with feces, are found in household dust. Both skins and feces contain human allergens, proteins that trigger allergic reactions and can cause asthma. Developing children are particularly prone to such reactions and may develop lifelong complications.
While Las Vegas has a wet winter season it rarely has a freeze strong enough to kill existing cockroaches' or their eggs so the cockroach population grows larger.
Contact a licensed pest professional if you see any signs of an infestation of pesky cockroaches.
GLOBAL PEST SERVICES in Las Vegas is a licensed pest control company that is qualified to handle all your pest elimination needs. Call our office at 702-657-0091 or go to our web site- to speak with us for all your pest control needs. Get a quote now!
Let us know what's bugging you…