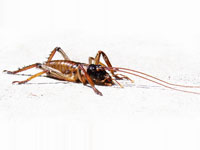 CRICKETS IN LAS VEGAS – THE MOST "UNWANTED LIST" PART 10
The next pest on the Las Vegas UNWANTED LIST is the cricket. Crickets like warm climates – like Green Valley, Boulder City, Summerlin and Mountain's Edge.
The cricket is known for the very annoying chirping sound it makes. They are mainly outdoor pests but can also be found inside your home. Crickets feed on both plants and other insects – but when in the home they can cause damage to fabrics, leather and fur.
Crickets come in many varieties – House Cricket, Field Cricket, Camel Cricket, Jerusalem Cricket, Mole Cricket and Tree Cricket. The House and Field Cricket are about ¾ to 1 inch in length and the Jerusalem Cricket is the largest at least 3 inches. The House Cricket, Field Cricket and Camel Cricket are the most likely to invade your home.
The colors vary from shades of brown to black and they have the ability to jump almost three feet in the air. They lay a large amount of eggs at a time – anywhere from 150 to 400. These eggs take around 90 days to mature – making the cricket a pest that comes in large numbers making them quite destructive.
Crickets at one time were revered in the Far East – China and Japan for their singing. Also cricket fighting was popular and was a gambling sport – two crickets would be placed in a cage, starved to increase aggression and then would fight to the death.
If you suspect an infestation of crickets or any other pest contact a licensed pest control professional to evaluate and eliminate the problem.
GLOBAL PEST SERVICES in Las Vegas is a licensed pest control company that is qualified to handle all your pest elimination needs. Call our office at 702-657-0091 or go to our web site- to speak with us for all your pest control needs. Get a quote now!
Let us know what's bugging you….