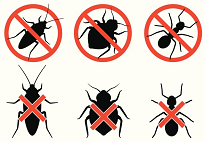 EARLY SPRING IN LAS VEGAS MEANS EARLY PESTS
Spring has come early to the Las Vegas Valley. Everywhere you look from Seven Hills to Summerlin we are already seeing bees buzzing around budding flowers and leaves coming appearing on foliage.
Not only are we seeing useful bugs like ladybugs, bees and butterflies but also annoying ants' spiders and cockroaches. If you have had a pest control routine during the winter months it is likely you will be bothered by far less of them this year.
If you have not have pest control procedures in place during the winter in your home or business you might start seeing these unwanted pests come back in full force.
The initial reaction when you see a bug is to spray a pesticide directly onto the pest you see. That is not the correct solution. The proper way of fighting an infestation is to locate the nest or source and start there. Contact your pest control service company to treat the problem – the pest control specialists are trained to handle these situations.
Remove food and water sources that attract pests. If there is no source of water or food the pests will not have a reason to come inside and dwell in your home or business.
As we said above the best way to handle an infestation of pests is to call in a professional pest control company. These people are trained and have effective methods to treat areas where the pests are starting to hatch and grow.
GLOBAL PEST SERVICES in Las Vegas is a licensed pest control company that is qualified to handle all your pest elimination needs.  Call our office at 702-657-0091 or go to our web site- to speak with us for all your pest control needs.  Get a quote now!
Let us know what's bugging you….