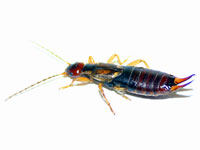 EARWIGS IN LAS VEGAS – THE MOST "UNWANTED" LIST PART 14
The next classification of pest on our "unwanted list" is earwigs. Most agree they are very frightening looking and can be found in homes in all areas of the Las Vegas Valley – in Green Valley, Southern Hills or in Centennial Hills.
Earwigs are a dark reddish-brown color with a muscular banded abdomen and antennae. They were first introduced to North America in the early 1900's most likely from Europe. Earwigs are apt to seek shelter in homes and consequently become a brazen household pest.
The earwig prefers dark, damp places and can get into homes through very small cracks and crevices that you might not notice. They will live inside the walls where they breed and scavenge for food.
Their lifespan is around one year – they molt several times before mating in the early fall and laying 30-55 eggs for the next generation.
They get into everything inside the home – furniture, laundry, clothing, bedding and any household food they can find. Earwigs have not been associated with the spread of any disease and are non-venomous.
The legend of earwigs having an attraction to people's ears is pure fiction. In reality they prefer to be solitary and will interact with each other only to mate.
To get rid of earwigs or other pests you might encounter in the Las Vegas Valley contact GLOBAL PEST SERVICES.  The licensed professional technicians are well trained in eliminating all pests.  Get your quote now!
Let us know what's bugging you…