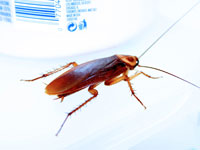 FALL IN LAS VEGAS – TOP TEN TIPS FOR PEST PROOFING
As we get deeper into the fall season in Las Vegas we spend more time indoors. From Southern Highlands to Henderson we are feeling the comfort of our homes….until a mouse or a cockroach scurries across the floor.
Pests such as rats, mice, cockroaches and some spiders come indoors to find shelter to survive during winter months. These pests can be harmful to both people and homes.
Rodents are known to transmit diseases such as salmonella and Hantavirus. Cockroaches can contaminate stored food, leave droppings around the house and cause allergic asthma especially in children. Some spiders commonly found around the house can be poisonous.
If rodents make a nest in the walls they can chew on drywall or electrical wiring causing damage to your home.
The National Pest Management Association (NPMA) has compiled a list of pest –proofing tips you can follow to keep pests away.
1-    Screen attic vents and openings to chimneys or any other areas in the home that may be open to the outdoors.
2-    Keep basements, attics and crawl spaces well ventilated and dry. Pests are attracted to moist areas.
3-    Seal cracks and crevices on the outside of the home using caulk and steel wool. Pay close attention to where utility pipes enter the home.
4-    Keep kitchencounters clean, dispose of garbage regularly and store food in airtight containers.
5-    Replace weather-stripping and repair loose mortar around the foundation and windows.
6-    Store firewood at least 20 feet away from the house and also keep shrubbery well trimmed.
7-    Install door sweeps and repair damaged screens.
8-    Inspect any boxes or grocery bags that you bring into the home – even boxes you have stored in your garage.
9-    Do not leave pet food dishes out for long periods of time.
10- Have a proper outdoor drainage system – to draw water and moisture away from your home.
If you suspect a pest infestation contact a licensed pest control professional to evaluate and eliminate the problem.
GLOBAL PEST SERVICES in Las Vegas is a licensed pest control company that is qualified to handle all your pest elimination needs. Call our office at 702-657-0091 or go to our web site- to speak with us for all your pest control needs. Get a quote now!
Let us know what's bugging you….