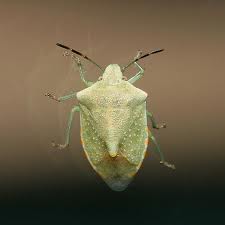 FALL IS THE TIME TO WATCH OUT FOR STINK BUGS
Fall in Las Vegas is a wonderful season – the evening air becomes crisp in Henderson, Summerlin and on the Strip. Unfortunately, it is alsothe time of the year we see the arrival of stink bugs.
They originated in Korea and Taiwan and were accidentally introduced to the United States in 1998. The stink bug is considered to be an agricultural pest but as the temperature gets cooler they look for refuge in warmer places like your home.
The stink bug does not pose a health risk and do not hurt property but this pest can be a nuisance because of the smell it emits. Simply handling the bug, injuring it, or attempting to move it can trigger it to release the odor.
To avoid having the stink bug or any other pests invade your home seal up any access points – like around utility pipes or siding. Also replace or repair damaged screens on your windows or doors.
Other steps you can take are dispose of your garbage regularly, wipe down countertops to eliminate crumbs, reduce moisture areas by checking for leaking pipes, check any bags or boxes you bring the house and vacuum on a regular basis.
If you suspect an infestation of stink bugs or any other pest contact a licensed pest control professional to evaluate and eliminate the problem.
GLOBAL PEST SERVICES in Las Vegas is a licensed pest control company that is qualified to handle all your pest elimination needs. Call our office at 702-657-0091 or go to our web site- to speak with us for all your pest control needs. Get a quote now!
Let us know what's bugging you….