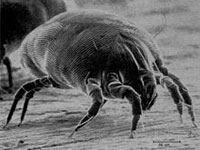 FALL IS THE TIME TO GET RID OF MITES IN THE HOME
Mites are very small – most of them are microscopic - and invasions of mites in the home go unnoticed. There are all types of species of mites now exceeding 48,000 and one of the most common pests on earth.
They can live outside in all kinds of weather conditions but would much rather survive in a house.  No matter how clean your home is it is also home to mites. The house dust mite is the mite that causes most people the greatest concern.   They do not bite but feeds on dander – dead skin which is shed – from humans and animals.  They have adapted to flourish in human environments.  The most common areas in the home that house dust mites can be found are beds, carpets, furniture and clothing.
Another concern regarding house dust mites is people are allergic to them.  The symptoms associated with them are sneezing, watery eyes, nasal stuffiness, runny nose, stuffy ears, eczema, itchiness and in severe cases asthma.
To help in the elimination of house dust mites wash your bed sheets once a week, dry clean your blankets once a year, and clean your carpets once a year.  You should also vacuum on a regular basis.
There are a few biting mites that are worth mentioning – the tropical rat mite, the house mouse mite, the tropical fowl mite and the northern fowl mite.  These can be found in houses that have had rat, mouse or bird infestations.  They are not parasitic on humans but their bites often produce dermatitis and itching.
GLOBAL PEST SERVICES in Las Vegas is a licensed pest control company that is qualified to handle all your pest elimination needs. Call our office at 702-657-0091 or go to our web site- to speak with us for all your pest control needs. Get a quote now!
Let us know what's bugging you….