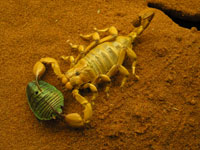 FAMILIES IN LAS VEGAS FIGHT SCORPION INVASIONS
There are many families that are affected by scorpions in the Las Vegas Valley. There are 23 species of scorpions that live in neighborhoods such as Henderson, Spring Valley and Aliante.
The bark scorpion is the main problem pest because their stings can be deadly if not treated. They are not native to the region – arriving here on palm trees and other desert landscaping.
This past summer a family in Las Vegas including a mother, father, three children and cats, had a major issue with a scorpion infestation. Every night they would go out to the yard with a black light and a stake to eliminate the scorpions from the home. The infestation was everywhere in the home even under the sinks, and the garage besides the outside of the home. At times they would find five scorpions per night and one of the cats passed away from two scorpion bites.
The family had to change their way of life – they had to wear shoes all the time so they wouldn't get bitten if they accidentally stepped on a scorpion. Also they had to inspect toy boxes etc. with a black light to make sure scorpions were not present.
This home was a rental and the landlord refused to pay for pest control so the family was looking to move within the following few months. The message the family wanted to get out to others is- ask questions about infestations before signing a lease.
It is advised to get your property sprayed by experts on a regular basis.
GLOBAL PEST SERVICES in Las Vegas is a licensed pest control company that is qualified to handle all your pest elimination needs including scorpion infestations. Call our office at 702-657-0091 or go to our web site- to speak with us for all your pest control needs. Get a quote now!
Let us know what's bugging you….