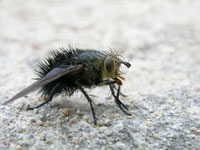 FLIES IN LAS VEGAS – THE MOST "UNWANTED LIST" PART 6
There are several thousand species of flies in the next classification on the "MOST UNWANTED LIST". They are all over the Las Vegas area – in the Seven Hills part of Henderson and Mountain's Edge you will find them buzzing around and possibly following you into your home.
The noun fly is a general term for any insect with a single set of fully developed wings. The Greek term for these pests is Diptera – and includes several thousand species. They are varied in appearance and behavior – the most common flies we encounter are the house fly, mosquitoes and midges.
Flies can be found nearly everywhere – they can exist in practically every climate. They have evolved over time from eating animal feces and rotting flesh to human garbage. Flies can carry disease and can transmit germs to our food.
House Flies are the most common fly species we encounter. They are usually grey and have four black stripes and the average life span of a house fly is less than a month. Since they carry disease it is important to get rid of them.
Mosquitoes are biting flies and carry diseases such as the West Nile Virus and Encephalitis. They seem to like to be near water so if you eliminate any stagnant water on your property especially during our "monsoon" season.
Midges include many kinds of small flies – black flies, sand flies. The biting midges can spread livestock disease but most midges are non-biting. They like plant life and some species are found near man-made bodies of water and mistaken for mosquitoes.
To get rid of flies in the Las Vegas Valley contact GLOBAL PEST SERVICES.  The licensed professional technicians are well trained in eliminating all pests – including all types of flies.  Get your quote now!
Let us know what's bugging you….