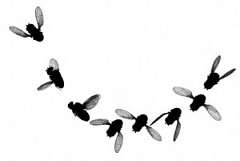 FLIES IN LAS VEGAS FLY LIKE FIGHTER JETS TO AVOID BEING CAUGHT
Whether you live in the Las Vegas Valley or anywhere else catching or swatting a fly is not an easy task. From Boulder City to Mountain's Edge flies evade capture – they maneuver like fighter jets according to a new study.
Using high-speed video cameras, a team of researchers captured the lightning-fast wing and body motion of fruit flies as the insects performed rapid, banked turns to avoid a looming threat.
"These flies roll up to 90 degrees — some are almost upside down — to maximize their force, and escape," said study researcher Florian Muijres, who studies the biomechanics of flight and swimming at the University of Washington in Seattle. The flies can change course in less than 1/100th of a second — 50 times faster than the blink of an eye, the researchers said.
Muijres and his team took fruit flies, about the size of a sesame seed, and put them in an area where they were free to buzz around. High-speed cameras filming at 7,500 frames per second were focused on the middle of this area, where two lasers were set up. When a fly flew through the lasers, it triggered an expanding black shadow to appear, resembling a predator which prompted the fly to take evasive action.
Given this newfound knowledge of fly flight, what's best way to catch a fly?
"From the side," Muijres said, though he hasn't tried it yet.
The best way to handle an infestation of pests is to call in a professional pest control company. These people are trained and have effective methods to treat areas where the pests are starting to hatch and grow.
GLOBAL PEST SERVICES in Las Vegas is a licensed pest control company that is qualified to handle all your pest elimination needs.  Call our office at 702-657-0091 or go to our web site- to speak with us for all your pest control needs.  Get a quote now!
Let us know what's bugging you….