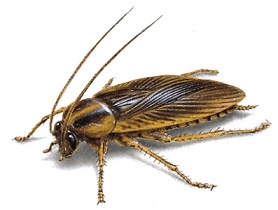 GERMAN COCKROACHES IN LAS VEGAS
The German cockroach is a widely distributed urban pest. It is also the most common cockroach species in houses, apartments, restaurants, hotels, and other institutions. You will find them in all neighborhoods in the Las Vegas Valley.
Fossil evidence indicates that cockroaches have been on earth for over 300 million years. They are considered one of the most successful groups of animals. Because cockroaches are so adaptable, they have successfully adjusted to living with humans.
Adult German cockroaches are 1/2 to 5/8 inch long and tan to light brown and although they have fully developed wings, they do not fly. The German cockroach is best identified by its small size and by two dark parallel lines running from the back of the head to the wings. It is usually found in kitchens near dishwashers, stoves, and sinks and in bathrooms of homes since they prefer a moist and warm environment.
The insects are mostly scavengers and will feed on a wide variety of foods. They are especially fond of starches, sweets, grease, and meat products and in many locations garbage is a principal food source.  German cockroaches are mostly active at night, when they forage for food, water, and mates. During the day they hide in cracks and crevices and other dark sites that provide a warm and humid environment.
German cockroaches produce a larger number of eggs per capsule – up to 48 eggs and they undergo the shortest time from hatching until sexual maturity, resulting in a rapid population growth. A greater number of nymphs hatch successfully because the female carries the egg capsule during the entire time the embryos are developing within the eggs. Also, and most importantly, German cockroaches are smaller than most other cockroaches and can conceal themselves in many places inaccessible to individuals of the larger species.
Cockroach excrement and cast skins also contain a number of allergens to which many people exhibit allergic responses, such as skin rashes, watery eyes and sneezing, congestion of nasal passages, and asthma. . Disease-producing organisms such as bacteria, protozoan, and viruses have been found on cockroach bodies.
Contact a licensed pest professional if you see any signs of an infestation of pesky cockroaches.
GLOBAL PEST SERVICES in Las Vegas is a licensed pest control company that is qualified to handle all your pest elimination needs including cockroaches.  Call our office at 702-657-0091 or go to our web site- to speak with us for all your pest control needs. Get a quote now!
Let us know what's bugging you…..