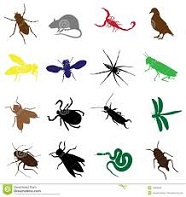 GHOSTS, GOBLINS AND PESTS OH MY – IT'S HALLOWEEN IN LAS VEGAS
Halloween is at the end of October – the time of year in Las Vegas that the temperatures start falling and pests try to find a warmer place to stay – YOUR HOME.
If you are hearing things that go bump in the night or scratching in the walls - it's no ghost.  It could be a mouse or rat in your house!
Spiders are very common pests to occupy your home. Usually, a small number of spiders in a house do not cause a problem, but many people are afraid of spiders. Most house spiders are completely harmless, but some species bite, and some spider species are poisonous to humans. In many cases, having a few house spiders is beneficial, as they feed on other insects.
Rodents can be destructive and are capable of chewing through aluminum, wire, glass and cinderblock -increasing the potential risk for fires and damaging property.  They easily find the kitchenand get into pantry food.  They can trigger allergies and transmit food borne illness such as salmonella. To prevent rodents, closely inspect both the inside and outside of the home for any cracks or crevices that could allow them easy entry.
Bats are the classic haunted house dwellers – they prefer settling in dark, secluded and protected areas like the attics of homes. They can be carriers of rabies - a disease that can be fatal in humans- and their droppings can lead to histoplasmosis, a lung disease.
If you think you have an infestation of type of pest – contact a licensed professional pest control company.
GLOBAL PEST SERVICES in Las Vegas is a licensed pest control company that is qualified to handle all your pest elimination needs.  Call our office at 702-657-0091 or go to our web site- to speak with us for all your pest control needs.  Get a quote now!
Let us know what's bugging you….