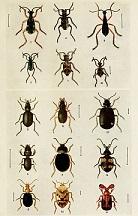 HALLOWEEN IS NEAR AND SO ARE THE CREEPY CRAWLERS
As the temperatures starts getting a bit cooler in late October many pests will try to found shelter from the outside. Here are a few tips to keep your home in the Las Vegas Valley from becoming a haunted house this Halloween.
This is the time of year homeowners have more pest problems with spiders and rodents than the other seasons – no coincidence that we associate these pests with Halloween. The real life creepy crawly pests can cause major damage to the inside of your home.
Spiders can be helpful to curbing the population of other bugs but some species of spiders bite people. For example the black widow found in Las Vegas – bite and inject poisonous venom. If you are bitten get medical attention as soon as possible. Spiders like to hide in closets, basements and woodpiles.
Rodents – rats and mice – can cause major problems in the home. They can gnaw on electrical wires which can cause fires and they contaminate food. Rodents also spread the Hantavirus.
Here are some tips to prevent infestations:
Seal cracks around the exterior of your home – especially where pipes and wiring enter the house.
Do not leave food lying around.
Make sure wood is stored at least 20 feet away from the house and five inches off the ground.
Contact a licensed pest professional if you see any signs of an infestation.
GLOBAL PEST SERVICES in Las Vegas is a licensed pest control company that is qualified to handle all your pest elimination needs. Call our office at 702-657-0091 or go to our web site- to speak with us for all your pest control needs. Get a quote now!
Let us know what's bugging you…