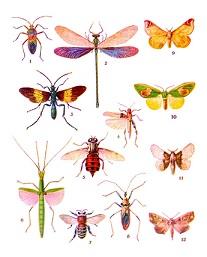 HELPFUL TIPS TO PREVENT BUG BITES WHILE ON SPRING BREAK
Spring is a beautiful time of year in Las Vegas however spring break is upon us and some people that live here like to vacation somewhere else. The National Pest Management Association (NPMA) has made a list of recommendations for those travelling during spring break and other times to help avoid bug bites especially from bed bugs and mosquitoes (in certain areas they can carry the Zika Virus).
Cindy Mannes, vice president of public affairs for the NPMA, stated "Spring Break marks the start of the busy travel season and the warm spring and summer heat rises, bringing out bugs. As people travel, it's important for them to be aware of the pest threats around them, including mosquito-transmitted diseases such as Zika and Dengue - no one wants to unknowingly stay in a bed bug infested room or property. These pests are amazing hitchhikers and will follow you back home. Identifying and avoiding contact with these pests will help ensure a safe and healthy vacation."
The following are some tips to help prevent mosquito and bed bugs from disturbing your vacation:
When staying in a hotel room or rented house inspect all the rooms before unpacking, including behind bed headboards and in furniture. Check the mattresses and seams for evidence of bed bug activity.
Set luggage away from walls and use large plastic trash bags or protective covers to store suitcases in the room you are staying in.
Once back home, unpack luggage outside then wash and dry all clothing on a high heat setting. Vacuum luggage thoroughly in case any bed bugs came home with you.
Use an insect repellant containing at least 20% DEET, picaridin or oil of lemon-eucalyptus when outdoors, and reapply as directed on the label. If you are spending long amounts of time outdoors you might consider wearing long pants, long-sleeve shirts and closed-toe shoes to limit skin exposure to mosquitoes. The main type of mosquito that carries Zika is a daytime biter, so taking preventive measures at all times of the day is crucial.
Mosquito carried diseases that are rare in the United States are often common in many foreign countries, so anyone traveling outside of the U.S. should be aware of travel advisories. If a person falls ill upon returning home, seek prompt medical attention.
GLOBAL PEST CONTROL likes to keep our neighbors in the Las Vegas Valley informed and safe.
GLOBAL PEST SERVICES in Las Vegas is a licensed pest control company that is qualified to handle all your pest elimination needs. Call our office at 702-657-0091 or go to our web site- to speak with us for all your pest control needs. Get a quote now!
Let us know what's bugging you….