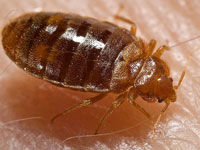 HOLIDAY TIME CAN MEAN A LOT OF TRAVELING AND MANY BED BUGS
December is the time of year families get together to enjoy the holidays with one another. If you are travelling out of Las Vegas or family members are coming to visit you – Beware of Bed Bugs.
Bed Bugs hitchhike with you especially when travelling by train or airplane. They are easily transported from one place to another in human belongings, such as suitcases, purses and laptop bags. This makes travelers especially susceptible to picking up bed bugs while away from home, regardless of whether staying in a hotel or at a relative's house. "The best advice I can give to those traveling over the holidays is to be on the lookout for evidence of bed bug activity at all times," noted Cindy Mannes, vice president of public affairs for National Pest Management Association.
Some common signs of bed bugs include pepper-like stains on fabric-covered items, molted bed bug skins, the bugs themselves in various life stages, white eggs and empty egg casings.
Travelers staying in hotels should thoroughly inspect the room for the presence of these bed bug indicators upon arriving in their room. Pull back the bed sheets to examine the mattress seams, checking behind the headboard and looking in furniture crevices. A small flashlight can help aide in this investigation. If you think there might be a bed bug infestation you should notify the property owner or management and request a new room.
When returning home it is advised to wash and dry all the clothes you took on your trip – even those not worn and vacuum your luggage.
GLOBAL PEST SERVICES in Las Vegas is a licensed pest control company that is qualified to handle all your pest elimination needs. Call our office at 702-657-0091 or go to our web site- to speak with us for all your pest control needs. Get a quote now!
Let us know what's bugging you…