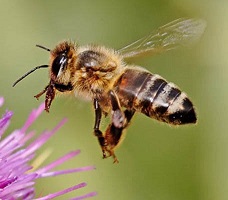 HONEYBEES ARE DYING OFFICE ELSEWHERE- THE BUZZ IN NEVADA IS STILL GOOD
Southern Nevada has had an increase in colonies and bee keepers – more than ever before. Honeybees are important for vegetables and fruit trees in the Las Vegas Valley from North Las Vegas to Boulder City.
Honeybees are not aggressive by nature, and will not sting unless protecting their hive from an intruder or are unduly provoked. They represent a highly organized society, with various bees having very specific roles during their lifetime: e.g., nurses, guards, grocers, housekeepers, construction workers, royal attendants, undertakers, foragers, etc.
The queen bee can live for several years. Worker bees live for 6 weeks during the busy summer, and for 4-9 months during the winter months.
There is a threat to honeybees from the Africanized bees that are moving into the area. These bees are overly aggressive and can take over the honeybee colonies if the beekeepers do not take care of the hives properly.
Africanized Bees that have arrived in the southern states including Nevada have received sensationalized treatment in the media. In some areas of the country, this negative publicity has stimulated local restrictions and ordinances on the hobbyist beekeeper.
A few weeks ago there was a report of an attack by Africanized bees in Las Vegas after a couple of people attacked the hive. Nine were treated at the site for bee stings and three others had to be transported to the hospital.
If you think you have a bee hive on your property call a professional – do not try to eliminate it by yourself.
GLOBAL PEST SERVICES in Las Vegas is a licensed pest control company that is qualified to handle all your pest elimination needs including BEES.  Call our office at 702-657-0091 or go to our web site- to speak with us for all your pest control needs.  Get a quote now!
Let us know what's bugging you….