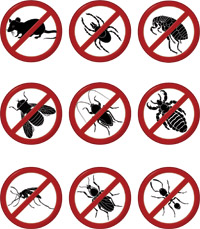 HOT AND HUMID LAS VEGAS SUMMER WILL HAVE AN IMPACT ON PEST POPULATIONS THIS FALL AND WINTER
The Las Vegas Valley had a hot and humid summer and this could mean we might see an abundance of ants and mosquitoes in the fall and winter months. Spring and summer are typically the most active seasons for the majority of pests, such as ticks, mosquitoes and ants, and this year was no exception.
Unfortunately, the start of fall doesn't necessarily mean an end to pest activity, with many of these pests remaining active until temperatures consistently stay below the 50-degree mark and they begin to seek overwintering sites.
The National Pest Management Association has taken into account the summer conditions in the southwest and the following is the conclusion they have come up with for our part of the country. "Triple-digit heat was typical across the region for much of the summer, and Las Vegas experienced the hottest June on record. More rain than usual has freed many areas from drought conditions, especially in New Mexico, and the weather patterns have combined to provide excellent conditions for mosquitoes, ants and flies. Termite foraging and unseen damage to wood may be higher than usual, and mosquito breeding sites are likely at a surplus thanks to an abundance of moisture."
Be careful of mosquitoes – they can carry West Nile Disease. If you see a pool of standing water on your property eliminate it as quickly as possible. This is where the disease can breed.
Ants are an extreme annoyance since they usually form colonies and get into everything if they set up home in your house.
It is advised to call a licensed pest control technician to deal with pest elimination as they know the correct method for each type of pest.
GLOBAL PEST SERVICES in Las Vegas is a licensed pest control company that is qualified to handle all your pest elimination needs Call our office at 702-657-0091 or go to our web site- to speak with us for all your pest control needs. Get a quote now!
Let us know what's bugging you….