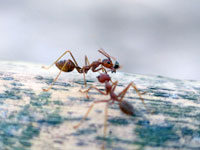 HOW SOME INSECTS SURVIVE WINTER IN LAS VEGAS
Las Vegas can get pretty cold during the winter months especially once the sun goes down. Many people assume pests just die off during the winter, but the truth is insects often devise strategies to make it through the winter.
The following are ways specific pests survive the harsh elements:
Ants
It's not that often you see an ants marching across the kitchen counter during winter months. That doesn't mean they aren't nearby. Ants are very successful at overwintering in the outdoors, including our yards. During the fall months, they eat a vast amount of food with the goal of putting on fat to survive for weeks without eating. As the winter chill arrives, their body temperature – and productivity – significantly decreases, so they seal up their colony and hunker down in deep soil or under rocks until spring.
Bed Bugs
Bed bugs can withstand temperatures from nearly freezing to 122 degrees Fahrenheit, which makes controlling them extremely difficult. However, they often succumb after a few days of exposure to temperatures below 32 degrees Fahrenheit. The bad news is our homes provide the perfect habitat for bed bugs to survive during the winter months.
Cockroaches
Cockroaches have been around for millions of years and have evolved into some of the most adaptable pests in the world. Are they able to survive the cold weather? Generally speaking, most types of cockroaches can survive year-round, as long as they have easy access to a warm, moist environment. Cockroaches will migrate into homes or larger commercial buildings such as restaurants, grocery stores, food processing plants and hospitals and find food, water and many hiding spots.
GLOBAL PEST SERVICES in Las Vegas is a licensed pest control company that is qualified to handle all your pest elimination needs. Call our office at 702-657-0091 or go to our web site- to speak with us for all your pest control needs. Get a quote now!
Let us know what's bugging you….