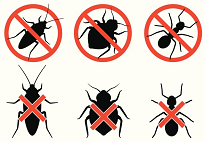 INNOVATORS AT NASA WOULD LIKE TO MAKE BUG-PROOF AIRPLANE WINGS
A great many of us that live in Las Vegas either go to visit relatives and friends by air or have people coming here to visit us – in Henderson, Summerlin or on the Strip. NASA is trying to combat tiny insects that splatter on the outside of airplanes – they can be a literal drag on these vehicles by increasing fuel consumption and pollutants.
Researchers at NASA, a group called "the bug team", recently tested coatings to reduce insect contamination on the wings of commercial planes. They found a Teflon-like coating for bug guts that could reduce the amount of bugs that stick on a plane – which could lead to lower flight costs.
As planes fly through the skies they encounter swarms of insects and the dead insects stick to the wings of airplanes. The flow of air over the wings that provides lift to the airplane is disrupted as the surface that is filled with bugs creates a slight drag –requiring the plane to use more fuel to reach the same speed as a plane without bug debris.
After testing eight different coatings they found the coated surfaces had fewer bugs splattered on the surface – minimizing the air flow disruption over the wings.
Unfortunately it will take a while for commercial airlines to start using the coatings. To be cost-effective the coatings will have to last through all types of weather and years of operation. NASA is still testing the most effective coatings – subjecting them to all types of environmental conditions.
If you have any type of bug or pest problem down on earth and any need professional services call GLOBAL PEST SERVICES.
GLOBAL PEST SERVICES in Las Vegas is a licensed pest control company that is qualified to handle all your pest elimination needs. Call our office at 702-657-0091 or go to our web site- to speak with us for all your pest control needs. Get a quote now!
Let us know what's bugging you….