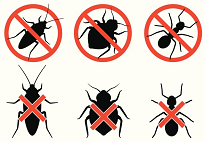 INSECTS THAT LIVE IN OUR HOMES IN LAS VEGAS
The Las Vegas Valley is home to many insects. Some of them live inside houses from Henderson to Aliante. From the attic to basements they hide and nest.
The good news is most of the species in the home are harmless. Sometimes these insects actually do our dirty work by eating dead bugs.
The following is a list of common household pests:
Silverfish– primitive insects that will eat dead insects along with hair, glue and leather.
Ladybugs– good for our gardens however can be a nuisance indoors. They can bite and cause skin rashes.
Spiders – most species are harmless but some species bite and many of us are afraid of them.
Ants- are some of the most amazing, yet annoying insects in the world. They are the most common nuisance pest inside the home – invading pantries and ruining our food.
Flies– like to eat human garbage and we see them mostly during summer months.
Cockroaches- are pests simply because they introduce bacteria and allergens into our homes and are difficult to get rid of.
Scorpions- the bark scorpion is the most problematic type of scorpion the Las Vegas since their stings can be deadly if not treated.
Crickets- A bug often found inside the home, driving crazy those trying to capture it with the loud chirp it is known for.
It is advised to call a professional pest control expert to eliminate any infestation so they do not overrun your home.
GLOBAL PEST SERVICES in Las Vegas is a licensed pest control company that is qualified to handle all your pest elimination needs. Call our office at 702-657-0091 or go to our web site- to speak with us for all your pest control needs. Get a quote now!
Let us know what's bugging you….