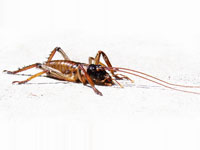 IT'S THAT TIME OF YEAR FOR CRICKETS IN LAS VEGAS
At the end of the summer season in Las Vegas we hear and see more crickets than at other times of the year. Crickets produce a very common nighttime sound as males' chirping sounds are made in an effort to attract females.
Though both grasshoppers and crickets can make these sounds, crickets make theirs at a higher pitch. House Crickets are most often times an unwanted in-house guest, not because they are destructive; it is their propensity to chirp - and quite loudly - that make people crazy. The male crickets use their forewings, which they rub together to chirp loudly, to attract the females. Each species of cricket has a different sound to be distinguishable to the female. The females hear the chirping through the eardrum in their front legs.
House Crickets tend to be found indoors most of the time; particularly anywhere there is a supply of food waste like crumbs. Hence, the kitchen of any home is a potential haven for crickets.
Crickets have two antennae, six jointed legs and a three-part body. Some species also have wings. A cricket's body is encased in an exoskeleton, which is hard. They breathe through holes located on the sides of their bodies and hear through an eardrum on their front legs. Crickets vary in color from brown to black and have the ability to jump nearly three feet in the air.
Crickets were once revered in ancient China and Japan for their singing ability. They were kept in gold, bamboo or wooden cages for people to listen to at night. Cricket fighting was also popular and considered a gambling sport. Two crickets would be placed in a cage, starved to increase aggression, and would fight to the death.
Many humans eat crickets as well. In the 19th century, the Paiute Indian hunted crickets, burning them for later use in making flour for bread. Today, it is popular cuisine in Africa, Asia and Latin America. Insects can be high in nutrition, easier to farm and a good source of protein. Crickets can be roasted, stuffed and even made into brownies.
GLOBAL PEST SERVICES in Las Vegas is a licensed pest control company that is qualified to handle all your pest elimination needs. Call our office at 702-657-0091 or go to our web site- to speak with us for all your pest control needs. Get a quote now!
Let us know what's bugging you….