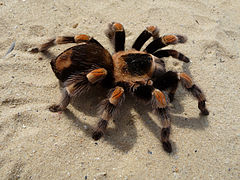 HE SOUTHWEST
Tarantulas are found the southern part of North America including the Las Vegas Valley.  The hairy, eight-legged creatures are looking for love as their mating season kicks off in our area.
The male spiders are expected to be out in force as they hunt for female spiders to mate with. These spiders may seem dangerous if you get in their way, but experts say you have little to fear: They have good sized fangs but rarely use them on humans.
Many Tarantulas live in burrows underground.  They will either use their fangs to dig them or else take someone else's burrow-home.  Even though they do not spin webs, Tarantulas use their silk to make doors or soft walls for their burrow or, in the case of tree-living tarantulas, tunnel-shaped homes in trees.
Tarantulas are nighttime hunters who will pounce on their prey.  They eat insects, beetles and grasshoppers.  The Goliath Bird-eating Tarantula species will eat larger prey, such as, lizards, snakes, frogs, bats and small birds.
All Tarantulas have an interesting way of defending themselves.  They have hairs on their abdomen (stomachs) that have sharp little barbs, or pokey things, on them.  When threatened, the spider will rub these hairs with their legs and shoot them at their predator.
Male Tarantulas have a distinct mating ritual – prior to mating the male spins a small special web and sprays it with sperm – them rubs himself on the web. At that time he searches for a female using the pheromones she emits as a guide. When the male finds a female he taps his foot to alert the female that he is there. After mating, the male spiders die off in a few months, while the female spiders give birth to hundreds of offspring.
GLOBAL PEST SERVICES in Las Vegas is a licensed pest control company that is qualified to handle all your pest elimination needs. Call our office at 702-657-0091 or go to our web site- to speak with us for all your pest control needs. Get a quote now!
Let us know what's bugging you….
'
IT'S MATING SEASON FOR TARANTULAS IN THE SOUTHWEST MATING SEASON FOR TARANTULAS IN THE SOUTHWEST