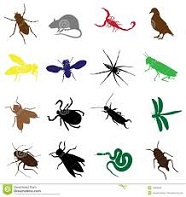 KEEPING YOUR HOME SAFE FROM PEST INVASIONS DURING THE WINTER IN LAS VEGAS
The winter months are not as harsh in Las Vegas as they are in a good part of the United States – however we do get many nights when the temperature falls well below freezing.
Frozen pipes and ice dams, downed trees and power lines are the problems that most homeowners dread. Another problem that can arise is the insects and rodents that are drawn to a warm home fully stocked with food. Mice and rats, cockroaches and spiders are notoriously relentless intruders, often capable of breaching even hairline cracks in the home exterior.
Once they gain entry to your home, insects and rodents gnaw through wood, wires, and drywall, gradually but inevitably leaving no small amount of destruction in their wake. Even their nesting—in dark, warm, often moist crevices—typically results in rotten wood and mold growth, either or both of which undermine the integrity and longevity of your home.
The following are some tips to follow not only before Winter but during the season as harsh conditions outside can cause damage to your home So, keep an eye out for storm damage as the weeks pass, and sooner rather than later, consider acting on the following best practices for pest prevention:
Trim back trees to bar rodents from easy access to the underside of your roof overhang.
Declutter the basement, attic, and any utility rooms so as to eliminate any potential nesting grounds.
Examine the board along the roofline, replacing any areas of rotted wood.
Repair loose mortar and replace worn weatherstripping around all windows and doors.
Store food in sealed containers and keep crumbs off the floor.
Seal any and all cracks or gaps on the home exterior with a silicone-based caulk.
Store firewood at least 20 feet from the home, not only off the ground but also covered.
Avoid ice dams by using a roof rake to dissipate potentially problematic accumulations of snow.
Hire a professional sweep to clean the stack, inspect the flue, and install a cap over the chimney. 
If you're concerned about insects or rodents on your property, don't hesitate to call in a professional.
GLOBAL PEST CONTROL in Las Vegas is a licensed pest control company that is qualified to handle all your pest elimination needs. Call our office at 702-657-0091 or go to our web site- to speak with us for all your pest control needs. Get a quote now!
Let us know what's bugging you….