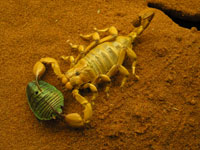 LAS VEGAS – SCORPIONS INFESTING SOME COMMUNITIES
Fox5LasVegas News is running a story about the infestation of scorpions in the Las Vegas Valley and we would like to bring this to your attention.
The Las Vegas area has many types of scorpions – 23 to be exact.  Most of the scorpion species we see here are not something to worry about.   BUT the ARIZONA BARK SCORPION is venomous and dangerous to young children, the elderly, people that are in poor health and those that suffer an allergic reaction to the sting.
The Arizona bark scorpion is not native to Las Vegas.  They came here on palm tress and other desert landscaping that people have planted in their yards.  Just one palm tree can have hundreds of scorpions hiding in them.
You must know what an Arizona bark scorpion looks like so you can avoid being stung by one. The Arizona bark scorpion is relatively small at only 7 cm long. The color patterns of the Arizona bark scorpion varies depending on where you are. Most Arizona bark scorpions appear to be brown to light tan in color.
Unlike most scorpions, the Arizona bark scorpion stays around moist, wet areas – like a backyard pool.  Also can be found in kitchens and bathrooms under the sinks.  Since they are small and blend with landscaping they can be missed and accidentally stepped on – so it is advised to wear shoes at all times.
One family in Las Vegas is so infested with Arizona bark scorpions – in their house and garage and outside in the yard – that they have taken to going out in their yard every night with a black light and stakes to kill these pests.  It seems they rent their home and the landlord will not pay for pest control.
People are advised to get their properties sprayed on a regular basis for all bugs and pests.  There are special pesticides that can eliminate scorpions so to get rid of scorpions in the Las Vegas Valley contact GLOBAL PEST SERVICES and mention your specific problem.  The licensed professional technicians are well trained in eliminating all pests – including Arizona bark scorpions.  Get your quote now!
Let us know what's bugging you…