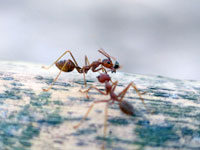 LAS VEGAS ANTS GO INSIDE HOMES DURING THE HEAT OF SUMMER
They may be small however ants are a big headache for homeowners in the summer in Las Vegas.  Ants have been ranked the number 1 nuisance pest in the United States by the National Pest Management Association (NPMA).
Ants are attracted to sweet food and that's one of the many reasons they love to invade kitchens. Aside from hunger, these little pests also find their way indoors, especially in the heat, for a consistent water supply.
Cindy Mannes, vice president of public affairs for NPMA stated "Although most ants don't pose a public health threat, they can contaminate cooking ingredients and food, so diligent prevention is necessary.  Because ants are attracted to leftover food crumbs and spills, one of the best ways to prevent infestations is to maintain a clean kitchen."
It is advised that you should store cooking ingredients in airtight containers and wipe up countertops immediately following food consumption.  Plus it is a good idea to clean your floors often and don't leave dirty dishes piling up in the sink.  You should also take out the trash on a regular basis.
Since ants need water they are also inclined to infest bathrooms. Check for any leaky pipes or faucets and you should inspect and seal cracks and crevices you find around the home – they can serve as points of entry.
Remember ants live in large colonies, so if you spot a few of them there are likely hundreds or thousands more nearby.
Homeowners should consider working with a licensed pest professional to employ a preventative pest management plan if an ant infestation is suspected.
GLOBAL PEST SERVICES in Las Vegas is a licensed pest control company that is qualified to handle all your pest elimination needs.  Call our office at 702-657-0091 or go to our web site- to speak with us for all your pest control needs.  Get a quote now!
Let us know what's bugging you….