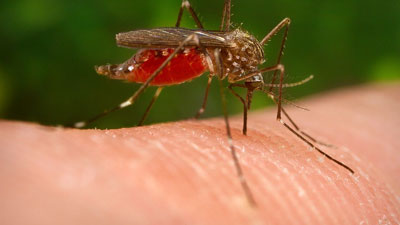 LAS VEGAS VALLEY - WEST NILE INFECTED MOSQUITOES DISCOVERED
This is a community service alert to those living in areas of the Las Vegas Valley – this year the West Nile virus is striking the region earlier than normal.  
The Las Vegas area usually starts seeing cases of the West Nile virus in August and September but the Southern Nevada Health District has reported five known cases as of this week.
Mosquitoes spread the West Nile virus to humans by a bite from them.  The mosquitoes acquire the disease by feeding on infected birds.  The virus is NOT spread person to person.
Why is Las Vegas seeing earlier cases of West Nile?  No one seems to have an absolute answer – just a few theories.  Dr. Alan Greenberg, an infectious disease specialist at University Medical Center suggested that the Las Vegas Valley has a lot of empty foreclosed homes with standing pools of water – a great breeding spot for mosquitoes.  
Devin Barrett, a senior disease investigator for the health district, observed that more doctors are testing for West Nile now as opposed to past years so that could be playing a part in earlier reported cases.
Monsoon season in Las Vegas means more standing water and more mosquito larvae in the areas affected the most   This year the Henderson zip code 89014 has been reported as the first area with positive mosquitoes collected.
There is no vaccine available for people that are infected with West Nile.  The majority of people that become infected – 80 percent – have NO SYMPTOMS.  Those that do have symptoms will develop a fever with a headache, joint pains vomiting, diarrhea or a rash.  Most people make a full recovery although they may experience weakness and fatigue for weeks or months.
Experts suggest you wear long sleeves and pants – especially at dawn and dusk, as this is when mosquitoes like to feed (bite).  If outside, you should consider the mosquito repellent DEET.  Swimming pools should be cleaned on a regular basis and if you have standing water – like pots, decorative places outsides your home that collects water, etc. – eliminate the water.
GLOBAL PEST SERVICE cares about the residents of the Las Vegas Valley so if you have any questions please contact us http://www.globalpestlasvegas.com.
Let us know what's bugging you…..