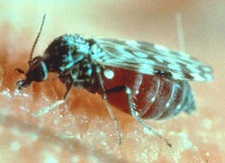 LAST OF THE FLYING INSECTS BEFORE THE WINTER FREEZE
Midges comprise a huge group of insects with more than 10,000 species worldwide. They are the last flying insects we see in the Las Vegas Valley before the winter approaches in Centennial Hills or Henderson.
In the late autumn a swarm of midges might be seen having one last free-flying spree just before the entire insect goes into hibernation for the winter.
A midge is any tiny two-winged insect that superficially resembles mosquitoes. Midges are harmless – they have small mouthparts that are not elongated and cannot pierce skin for blood feeding. Unlike the mosquito they do not have scales on their bodies or wings.
Midges have aquatic larvae and are usually found living around rivers, lakes, ponds, and even small pools of stagnant water trapped in the hollows of trees. Some of the species that comprise the midge classification have adapted to low oxygen levels and have become the dominant insect in polluted water.
Midges are one of the first pests to emerge before the first signs of spring. When they do their mission is to fly, mate, lay eggs and then die – they have a very short life span.
GLOBAL PEST SERVICES in Las Vegas is a licensed pest control company that is qualified to handle all your pest elimination needs. Call our office at 702-657-0091 or go to our web site- to speak with us for all your pest control needs. Get a quote now!
Let us know what's bugging you….