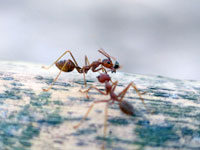 LITTLE BLACK ANTS IN LAS VEGAS
As the name states the little black ant is little – 1.5 to 2mm in length, and found all over the country as well as Nevada. They are dark brown to black and shiny in appearance.
A colony of little black ants may contain several queen ants and in larger colonies you may have over 1 million ants.  This is the major reason they are so hard to eliminate – you have to be able to kill all the ants in the colony.  With several queen ants they will continue to reproduce.  This is why you should use a licensed professional pest control company.
Most of the ant infestations start outdoors on a tree stump, fence or a log.  They can also nest in landscape like under a pile of mulch or under stones. Once inside they will nest in the voids of walls and cabinets as well as the foundation of the home or brick or stone veneer. The little black ant feeds on many things including other insects, pollen, plant exudates when they are outside.  Once they are in your home the will feed on sweets, breads, fruits and meats.
GLOBAL PEST SERVICES in Las Vegas is a licensed pest control company that is qualified to handle all your pest elimination needs.  Call our office at 702-657-0091 or go to our web site- to speak with us for all your pest control needs.  Get a quote now!
Let us know what's bugging you….