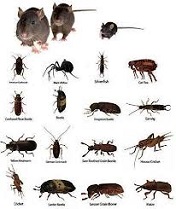 MICE AND COCKROACHES ARE AT THE TOP OF PEST INFESTATION LIST
In Las Vegas we see less bugs and rodents than other parts of the country – however mice and cockroaches do live in all areas of the Las Vegas Valley from Centennial Hills to Anthem.
According to the 2013 American Housing Survey one in ten homes reported sighting of either mice or cockroaches on their premises. The National Pest Management Association (NPMA) warns homeowners that as pests are more likely to enter homes in the fall and winter and it's important to take preventative steps to reduce chances of an infestation.
Also troubling are the other top home deficiencies listed, including open cracks or holes and exposed wiring, which can lead to or be exacerbated by pest infestations. Mice and rats are capable of causing structural damage by chewing through electrical wires, putting homes at risk for fires.
Cockroach and mice infestations can cause health problems. Cockroaches have been reported to spread at least 33 kinds of bacteria, six kinds of parasitic worms and at least seven other kinds of human pathogens. Mice and rats can bring fleas, mites, ticks and lice into the home. All of these pests also contain potent allergen proteins that can trigger reactions and symptoms in asthma and allergy sufferers.
To prevent pests from entering the home, seal all cracks and crevices, eliminate food and moisture sources and practice good sanitation, especially in the kitchen, and dispose your garbage regularly. Install door sweeps to exterior doors and repair any damaged screens. Also screen vents and openings to chimneys.
GLOBAL PEST SERVICES in Las Vegas is a licensed pest control company that is qualified to handle all your pest elimination needs.  Call our office at 702-657-0091 or go to our web site- to speak with us for all your pest control needs. Get a quote now!
Let us know what's bugging you….