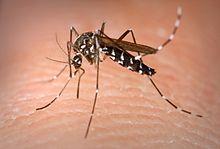 MORE ON THE ZIKA VIRUS
As we get further into 2016 we are learning of more cases of Zika virus in the United States. As of February 24 the Center for Disease Control (CDC) there have been 107 cases of the Zika virus in the United States.
All of the cases are people travelling to the countries where the Aedes aegypti mosquito is commonly found. Florida has the most confirmed cases, 28, which is largely due to the warm climate and the fact that it attracts many tourists. Last week, New Hampshire reported its first case of the Zika virus, a female who had sexual contact with a man that had travelled to a Zika-affected country – she has since recovered.
The virus is transmitted primarily through mosquito bites - the common symptoms are fever, rash and joint pain. People seldom die from the disease and are rarely sick enough to go to the hospital, so a lot of the time cases of the virus can go undocumented.
The Zika virus was first discovered in 1947 and was named after the Zika forest in Uganda. In 1952, the first human cases were documented. 63 years later in 2015 Brazil sees its first confirmed case. February 1, 2016 the World Health Organization declared the virus to be a public health emergency of international concern.
Currently scientists are studying possible connections between pregnant women who contract the virus and microcephaly, a birth defect that causes babies to be born with unusually small heads. As of now, the CDC recommends that pregnant women delay any travelling to Zika-affected areas.
GLOBAL PEST CONTROL like to keep our neighbors in the Las Vegas Valley informed and safe – when more information on Zika or any other disease that you may come in contact with from a bug or pest we will blog about it.
GLOBAL PEST SERVICES in Las Vegas is a licensed pest control company that is qualified to handle all your pest elimination needs. Call our office at 702-657-0091 or go to our web site- to speak with us for all your pest control needs. Get a quote now!
Let us know what's bugging you….