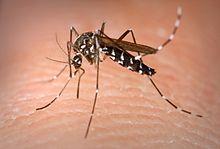 MORE TYPES OF MOSQUITOES CAN SPREAD THE ZIKA VIRUS
A study of different mosquitoes showed that more species than first thought can spread the Zika Virus – some of these mosquitoes are found in Nevada and other states in the United States.
The study was conducted by the Fiocruz Institute in Brazil and found that the mosquito species Culex quinquefasciatus is able to transmit the disease – this species is found in Nevada. Originally it was thought that only the Aedes aegypti mosquitoes and the Aedes albopictus carried the disease.
James Wilson, director of the Nevada State Infectious Disease Forecast Station at the University of Nevada – Reno, stated a Zika epidemic is unlikely in Nevada. There have been no reports of the Zika Virus acquired locally – only patients that have travelled to South America or the Caribbean Islands. There have been 1,403 travel associated cases reported.
The Centers for Disease Control and Prevention has announced that the state of Nevada received $690,000 in funding for Zika prevention. The Southern Nevada Health District requested $385,700 from the fund to study the mosquitoes here in the Las Vegas Valley.
The most common symptoms of Zika are fever, rash, joint pain, and conjunctivitis (red eyes). The illness is usually mild with symptoms lasting for several days to a week after being bitten by an infected mosquito. People usually don't get sick enough to go to the hospital, and they very rarely die of Zika. For this reason, many people might not realize they have been infected. However, Zika virus infection during pregnancy can cause a serious birth defect called microephaly, as well as other severe fetal brain defects. Once a person has been infected, he or she is likely to be protected from future infections.
Zika can also be transmitted sexually so it advised if you or your partner have been traveling it is wise to practice safe sex.
From time to time GLOBAL PEST SERVICES will inform you of disease outbreaks that can affect our population – especially in Las Vegas where we have a huge number of tourists each year.
GLOBAL PEST SERVICES in Las Vegas is a licensed pest control company that is qualified to handle all your pest elimination needs. Call our office at 702-657-0091 or go to our web site- to speak with us for all your pest control needs. Get a quote now!
Let us know what's bugging you….