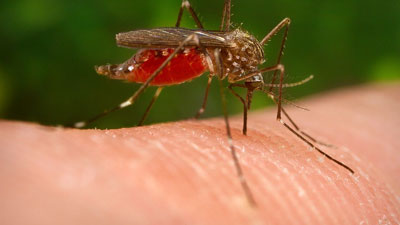 MOSQUITOES IN NORTH LAS VEGAS TEST POSITVE FOR WEST NILE
Mosquitoes in North Las Vegas zip code 89032 tested positive as carriers of West Nile Virus. Also in the zip code 89021 a horse has tested positive for the West Nile virus as well.
"The identification of West Nile-positive mosquitoes is another reminder to the public of the importance of taking steps to eliminate breeding sources around their homes and to protect themselves from mosquito bites," said Dr. Joe Iser, Chief Health Officer for the Health District.
Mosquitoes tend to gather at sources of standing water such as in birdbaths, flowerpots, grill covers and baby pools. Try to eliminate any standing water especially after a heavy rain.   It is advised to screen all windows and doors, repairing even the smallest holes that could serve as entry points for pests. Residents who are aware of green pools or stagnant water are encouraged to call code enforcement agencies.
West Nile Virus is spread through mosquito bites of infected mosquitoes that get the virus after feeding on infected birds. The symptoms of West Nile Virus include fever, headache, body aches, vomiting and sometimes swollen lymph glands or a body rash. The virus can lead to death.
GLOBAL PEST SERVICES in Las Vegas is a licensed pest control company that is qualified to handle all your pest elimination needs. Call our office at 702-657-0091 or go to our web site- to speak with us for all your pest control needs. Get a quote now!
Let us know what's bugging you….