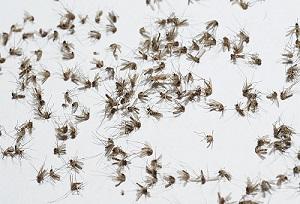 MOSQUITOES THAT CARRY ZIKA AND WEST NILE WILL ARRIVE IN THE LAS VEGAS VALLEY
So far this year we have not seen any Aedes aegypti mosquitoes in the Las Vegas area- this is the mosquito that carries the Zika virus. It is only a matter of time before our monsoon season and the conditions in the valley will be ripe for these mosquitoes and the mosquitoes that carry the west nile virus.
West Nile Virus is spread through mosquito bites of infected mosquitoes that get the virus after feeding on infected birds. Both types of mosquitoes like to breed in stagnant water such as in birdbaths, flowerpots, grill covers and baby pools. Try to eliminate any standing water especially after a heavy rain.   It is advised to screen all windows and doors, repairing even the smallest holes that could serve as entry points for pests. Residents who are aware of green pools or stagnant water are encouraged to call code enforcement agencies. They also like to gather at the washes after a big rain event.
Common symptoms of Zika virus are fever, rash and joint pain. People seldom die from the disease and are rarely sick enough to go to the hospital, so a lot of the time cases of the virus can go undocumented. Scientists suggest that there is a connection between pregnant women who contract the virus and microcephaly, a birth defect that causes babies to be born with unusually small heads.
The symptoms of West Nile Virus include fever, headache, body aches, vomiting and sometimes swollen lymph glands or a body rash. The virus can lead to death. If you think you have these symptoms seek medical treatment immediately.
Use insect repellents to help reduce exposure to mosquitoes that may carry viruses such as the West Nile or Zika virus. Using insect repellent allows you to continue to play and work outdoors with a reduced risk of mosquito bites.
The Centers for Disease Control and Prevention (CDC) recommends using repellants that have been shown to work in scientific trials and that contain active ingredients which have been registered with the U.S. Environmental Protection Agency (EPA) for use as insect repellents on skin or clothing. DEET and Picaridin have demonstrated a higher degree of efficacy. Products containing these active ingredients typically provide longer-lasting protection than others. Oil of lemon eucalyptus a plant- based repellent, is also registered with EPA.
For more information contact The Southern Nevada Health District.
GLOBAL PEST SERVICES in Las Vegas is a licensed pest control company that is qualified to handle all your pest elimination. Call our office at 702-657-0091 or go to our web site- to speak with us for all your pest control needs. Get a quote now!
Let us know what's bugging you….