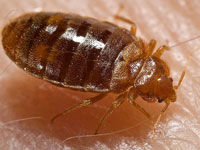 NEWEST SURVEY FINDS INFESTATIONS OF BED BUGS RISE DURING THE SUMMER
The Las Vegas Valley does not have as many types of bugs and pests as other areas in the country however we do have bed bugs. The 2015 survey by the National Pest Management Association found that bed bug infestations in the United States continue at high rates, with 99.6 percent of responses from pest control professionals having treated for bed bugs in the past year. This is significantly higher than 15 years ago, when only 25 percent of pest professionals reported treating for bed bugs.
"Our survey has found that residential settings and hotels continue to be the top places where pest professionals are finding and treating for bed bugs," said Missy Henriksen, vice president of public affairs for NPMA. "As summer travelers eagerly visit destinations, new and familiar, it's important to remind them that the best way to stem the spread of bed bugs is to be vigilant during and after their trip. Being aware of surroundings while staying in hotel rooms and utilizing public transportation, as well as carefully inspecting luggage and clothes upon return from vacation, can go a long way in ensuring bed bugs don't follow them home."
Other places you can find bed bugs are movie theatres, nursing office schools and day care centers, hospitals and outpatient facilities, doctor's offices and public transportation.
GLOBAL PEST SERVICES in Las Vegas is a licensed pest control company that is qualified to handle all your pest elimination needs including bed bug infestations. Call our office at 702-657-0091 or go to our web site- to speak with us for all your pest control needs. Get a quote now!
Let us know what's bugging you….