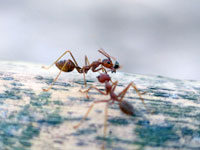 NUMBER 1 PEST IN LAS VEGAS –ANTS!
If you live in the Las Vegas Valley, or anywhere else in the country, you have probably found ants in your home.  They come indoors looking for food and water in homes during winter months making ants the number one nuisance pest in America.
According to a recent survey of pest professionals conducted by the National Pest Management Association, kitchens and bathrooms are the most likely areas of the home ants will take up residence.
It should not come as a surprise that the kitchen is a main area for ants to gravitate to – they have access to food and the sink provides water.  There are some preventative measures you can take to keep ants away:
Clean up crumbs and spills immediately.
Store sweet staples such as sugar, syrup or honey in plastic containers that snap shut. 
Empty juice or soda containers should be rinsed out before throwing out or recycling.
Check the fruit bowl – overripe fruit attracts ants.
Look out for water buildup in the sink or leaky faucet.
Pick up leftover pet food and wash the bowls regularly.Bathrooms are also locations that ants are attracted to – carpenter ants often set up nests behind bathroom tiles or under the sink.  Tips for keeping ants away from the bathroom are:
Inspect sinks, tubs and toilets for leaks or drips.
Clean the bathroom with disinfectant.
Check shampoo, lotion and soap bottles to make sure they are securely closed and no contents have spilled.Other common areas for ants to hide out

in

are inside walls, bedrooms, living rooms, basements and air conditioning and heating units. 
Homeowners should pest proof around the outside of the home.  If you suspect an infestation, contact a licensed pest professional to assess the situation and suggest a proper course of treatment.   
GLOBAL PEST SERVICES in Las Vegas is a licensed pest control company that is qualified to handle all your pest elimination needs including ants.  Call our office at 702-657-0091 or go to our web site- to speak with us for all your pest control needs. Get a quote now!
Let us know what's bugging you….