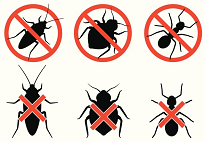 PEST MANAGEMENT- WHAT IS IT AND HOW IT WILL SAVE YOU MONEY
Living in the Las Vegas Valley and other parts of the southwest with mild climates all types of pests can be an ongoing problem. Some pest might be helpful as they eat other pests but most are just a nuisance. That is why pest management is important in your home and your business environment in Central Las Vegas, Henderson and Summerlin.
You can treat a pest infestation once and eliminate them for a period of time but they will eventually come back – some pests are more persistent than others. Pest management simply refers to providing pest control on a continuous basis to avoid any re-infestations.
You may wonder how often your home or office needs pest control treatment - that of course depends mainly on the climate and weather conditions in the region you live in and here in Las Vegas that means regular treatment once a month.
A professional pest company like GLOBAL PEST SERVICES LAS VEGAS knows what to look for when treating your property, knows where pests like to hide and can identify points of entry in a structure.
When you sign up for a pest control plan many companies offer a discount with a contract for ongoing services – GLOBAL PEST SERVICES offers a discount and will be happy to discuss a schedule that will work best for you.
Think ongoing pest control services will be more expensive – it is not! Once the first treatment has been applied and your pest problem has been eradicated the monthly visits will keep a reoccurrence from happening. Also the pest control professional will alert you to any conditions like a crack in a wall or foundation that can be an entry point for pests.
Other reasons for pest control are: pests can cause damage to your property and also pests attract other pests.
GLOBAL PEST SERVICES in Las Vegas is a licensed pest control company that is qualified to handle all your pest elimination needs. Call our office at 702-657-0091 or go to our web site- www.globalpestlasvegas,com to speak with us for all your pest control needs. Get a quote now!
Let us know what's bugging you….